A close friend proposed a blog idea recently and I have been meaning to get around to it. In the nature of being busy I put it off to ensure I had enough time to sit down and really research the best answers, and today is the day.
So this friend is in nursing school. As a student she is slowly being integrated into the hospital environment, and is already wary of the stress and long hours that accompany her
future profession.  Being that nursing means immersion into an environment of health care ~ she is conscious of a need to maintain her own health, despite logistical challenges (and the fact that she is the most energetic person I've ever known).  Unhealthy health care professionals puts more strain on an already taxed system for helping sick people – so I was excited to brainstorm and share some ideas. What to enjoy, what to avoid and how to prepare?
Eating well within a processed world is difficult, no question. For this reason planning is always the first priority. If you don't plan ahead, you will always be stuck in bad habits~ like chips, energy drinks and bottomless coffees. Such solutions seem easy at the time, but lead to very hard days and very burnt out individuals.
Planning
shop with snacks in mind (nuts, fruit, Larabar)
daily whole food supplement (such as Vega)
prep meals for the whole week (breakfast/lunch/dinner/snacks)
pack extra food or snacks for the work day
water bottle
In this case, organization will be the key to sticking with health foods and maintaining that energy on long shifts. With that said, also forgive yourself when your planning ahead doesn't pan out (especially at the start) ~ and give yourself credit for small successes. I have definitely had success some weeks and failure others, and I don't find that putting myself down gets me any closer to creating sustainable healthy habits. So celebrate the days that work, and take notes on the days of struggle ~ then you will become aware of what needs to change.
So what meals to make you might ask??
Find a breakfast plan that works for you. Something easy on the digestive system, but also filling. I LOVE avocado on Silver Hills squirrelly bread with a pinch of sea salt. In addition to a piece of toast, I enjoy oatmeal or quinoa or chia seeds with berries/nuts/mango and almond milk. Alkaline sisters have three great breaky recipes to take a look at ~ Chia Breakfast, Millet & Raisin Breakfast, Cinnamon Quinoa Breakfast. All are easy to prepare. I usually toss the quinoa or oatmeal on the stove to simmer while in the shower, then its just a matter of adding all the toppings! Of course you could always throw it in a container and eat on the go should you have to leave for work… and who said healthy breakfasts just aren't the same as those greasy ones? yum.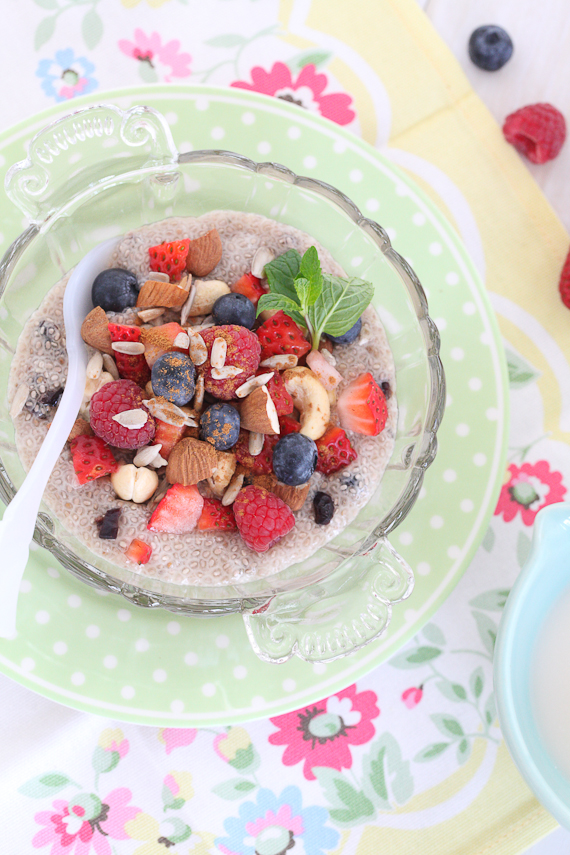 And for Lunch…
I think lunch is the perfect time to have a salad. Not any ordinary boring salad – something fun. This week I made a few different ones to mix it up, with ingredients like quinoa, beans, chick peas, avocado, carrots, celery, kale, parsley, cabbage & tomatoes. Instead of preparing them in the morning or the night before, I just made LOTS and kept it in the fridge. Here are three recipe ideas for lunch time salad. Obviously there is room for your own creativity – add or subtract whatever you like. And when it comes to avocado/dressings I like to add those just before eating – to avoid soggy salad.
Lunch Box Quinoa & Beans
Quinoa
Organic Kidney Beans
Red Bell Peppers
Parsley
Celery
Local Sprouts
Avocado
Tomato
Balsamic/Dijon Dressing
*Ration is up to you – trial and error works best for me, you can always add more!
Lynda's Sweet Creation
Organic Spinach
Papaya (Autafolo Mango would be good too!)
Cashews
Avocado
Organic Romaine or Red
Balsamic or other dressing
*Other nuts would compliment well too. The fruit really spices up the salad.
Roasted Sesame Winter Slaw (My New Roots)
Purple and Green Cabbage
Kale (finely sliced)
Parsley
Carrots
Mint
Lemon
Orange Zest
Tahini
Roasted Sesame Seeds
Chick Peas
*Click the link for full recipe and dressing. Could also add avocado for creamier texture. Recipe adapted from My New Roots.
For dinner meals I would suggest mixing it up to avoid getting bored of your meals. Roasted veggies including parsnips, yams and broccoli are easy to prepare ahead of time – and very nutritious. These foods will leave you satisfied and when heated give you that comfort food we tend to look for around the dinner hour. Rice pasta or brown rice is also a good option for a hearty dinner meal to keep you going at work, or to help you recover after a long day.
What else to think about?? How about exercise and hydration. If you are working long shifts it is likely difficult to incorporate fitness – but at minimum keep track of how much you're walking (and maybe start walking or cycling to and from work). Also drink water… especially if you are a coffee drinker, because the caffeine will dehydrate you throughout the day.  Your energy is dependent on activity, good nutrition, frequent nutrition and ongoing hydration.
Plan whole food meals, drink H2O, take supplements/shakes/juice, get active, schedule in sleep, and reach for healthy snacks in order to make the best of your very long and often stressful work days. Really pay attention to your energy levels and more generally how you are feeling – so that it becomes easier to determine what works best for you. When you feel exhausted there is a reason… listen to that body and reach for healthy tools. I find that when I am adequately prepared it becomes easier to tackle each task, navigate the stress and get things accomplished.
Be a conscious busy bee – your physical and mental health depend on you.
I hope these tips can be of some help. Thanks to Keish for the idea. – And keep em coming! I always love a little inspiration.
to your health and happiness,
~B