Greetings friends,
All this kale for $2 – the amazingness that is St. Lawrence Market.  Believe it or not the photo doesn't quite do it justice.  I will have to eat kale at every meal if I expect to get through the whole bunch. Thankfully its versatile and chalked full of nutrients.
I'm not sure about you, but until a year ago I hadn't even heard of this superfood, let alone tried it.  It is one of those brand new things I'm attempting to use in the kitchen.  I don't suggest picking up raw kale as a snack, it requires preparation – but luckily its pretty hard to screw up. I've been able to incorporate it with salad, pasta and as a snack.
My mum sent me a text this week that read "I have a kale question for you" ~ she reminded me that this discovery is new to most of us, so now sounds like a good time to share some of my recipe finds and tips with you.
Tip #1 – seal the kale (with air) inside a plastic bag and store it in the fridge ~ this keeps it fresh and prevents loss of shape/spoilage.
Tip #2 – rip the leafy part off and save the stalk for juicing. (you can juice the whole green but only if you have a high powered juicer that can break it down well).
Tip #3 – kale absorbs taste so be creative when cooking – experiment with oils/spices and methods (steam/dehydrate/bake/fry).
Recipe Finds:
Chips are my favourite kale creations, and very simple to make.  Alex Rodriguez has a starter recipe for kale you can find here ~ it involves kale, oil, sea salt, 375 degrees and ten minutes.  There's another yummy recipe on My New Roots that incorporates maple syrup, tamari and sesame seeds – delish :)  If you have a blender and a more time (using low heat or dehydrator) try the alkaline sisters recipe for image below.  It may take a few tries to figure out the best way to prepare, but its a much better option than a bag of salt & vinegar lays doused in saturated fats (my former favourite food). Kale chips are the perfect late night snack should hunger strike.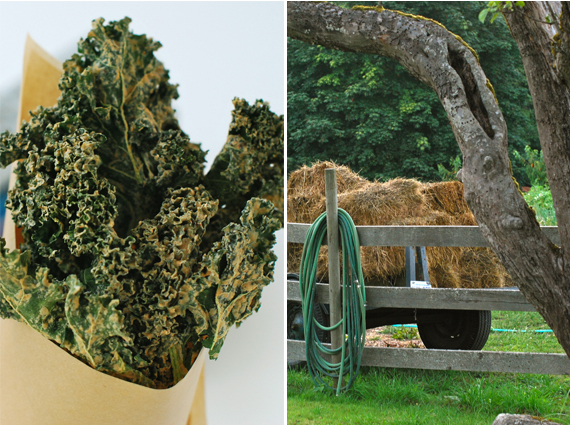 Beyond chips I love to incorporate kale with pasta.  It goes perfectly in a tomato sauce or vegan alfredo.  I find it best to add to the sauce while cooking, but you can also steam it first.  Steamed kale can then be used on a sandwich or in salad for extra nutrients, but a good dressing/spread is key to achieve the right texture.
Here are some links for amazing stir fry, pasta, salad and juice recipes- all with kale!
Spaghetti Sweet Potato Garlicky Kale - My New Roots
Vegan BLT Salad – Vegan Yum Yum
Quinoa & Kale Salad – Green Kitchen Stories
Kris Carr's Buddha Bowl – Crazy Sexy Life
Green Juice – Alkaline Sisters
Above is a salad  (with kale) that I enjoyed after my visit to the market on Saturday.  Fresh peppers, butter lettuce, steamed greens and avocado – nom nom nom! For dressing I mixed some coconut oil, a little balsamic and grainy mustard.  Slowly making the transition from summer salads into fall.
Nutrients
I like that the internet has this way of uncovering the most basic truths about this world.  Especially when it comes to reconfiguring our understandings of nutrition.  While researching for this weeks posting I came across 365 Days of Kale – a dietician & cancer survivor's blog about growing and consuming all things kale.  Here are some of the nutrient facts I came across:
Well, next time I'm interrogated about where I find calcium and B6 I will have another answer.  As it turns out kale is high in calcium, vit A, vit B6, vit C, vit K, folic acid, potassium, copper, manganese and omega-3 fatty acids – and thats just the basics.  Kale also has beta-carotene, carotenoid, lutein and zeaxanthin which are vital for eye health and reducing cholesterol.  Kale is high in cancer fighting agents and essential nutrients making it part of disease prevention and great health.  Pretty cool.
So far the cleanse has been great.  Lots of juicing, sleep, meditation, running and yoga.  Some days are mentally draining but I think that has more to do with my job hunt than eating.  The cleanse suggests a full day of only juice… which I have yet to achieve.  Overall my energy levels are great and I'm feeling ready for falling leaves and cooler weather.
With the holidays coming up I am being diligent about clean eating so I can treat myself a little.  I find the key to healthy holiday eating is keeping up with the veggies before during and after.  Of course I might still wind up with a stomach ache or two, but am thankful to know they are few and far between.
If you're looking for a healthy holiday soup or pumpkin cake try this weeks posts on alkalinesisters.com and mynewroots.blogspot.com. – soup is one of my favourite parts of fall.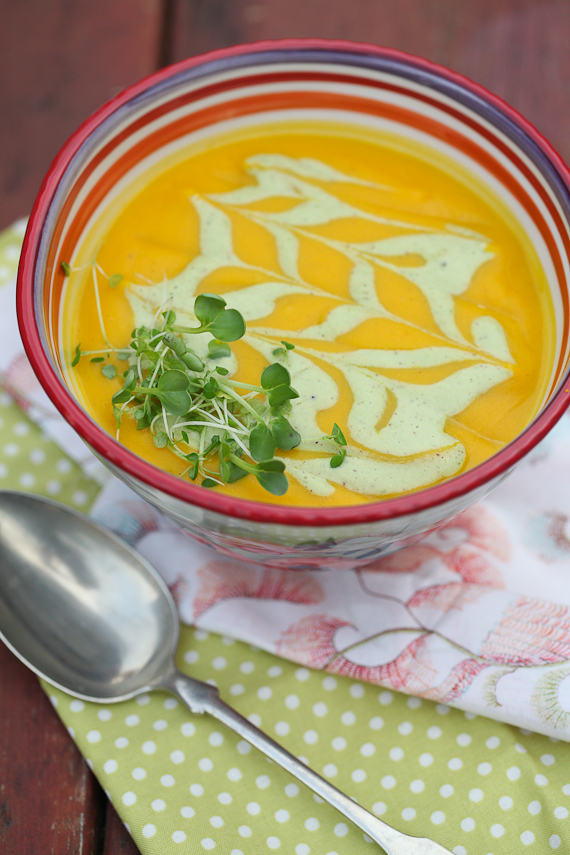 Let us be thankful for all the healthy foods at our finger tips,
happy thanksgiving.
~B