Hello!
Today's post is about my transition to loving all things green.  Green juice, spinach, kale, cucumber, zucchini and so on…. I just can't get enough.  You may be thinking really?
Well your skepticism is shared by many many others who are curious as to whether I miss meat, cheese or ketchup.  Yeah I'll admit I enjoy the smell of fresh baked bread or bacon, but my desired foods are different now.
Growing up I had this perception that salad was a boring meal.  I would imagine iceberg lettuce, maybe tomato/cucumber doused in Kraft Ranch or Italian dressing.  Today my understanding is very different.  Whole Foods Market has a salad bar with over 200 ingredients to choose from.  There are greens, grains, veggies, nuts, seeds, fruits, lentils and more (mm-mm vegetarian paradise).  They also have ingredients listed for each item, which is great for breaking down nutrition and inspiring creations at home.
My favourite concoction this week:
seasonal greens
chickpeas
steamed cauliflower
marinated eggplant
raisins
almonds
slivered apples
& mango dressing
… now that's a salad.
As I contemplated this shift in my eating habits I began to consider the presence of misconceptions in our lives.  All of us make assumptions and draw conclusions that rely on a very small fraction of reality.  Funny enough stereotypes rarely ring completely true.  To use a metaphor, my perceptions of Toronto before arriving here were nothing short of misleading.  From the nature of West Coast chit chat I expected a concrete jungle of high rises and dirty streets.  Then my explorations led to the contrary, with boutique style
shops, beautiful neighbourhoods and so much character around every bend.  I was SO wrong.  Yes the humidity can be a pain some days, but there are also these really cool down pours followed by amazing sunsets and lightning shows.  I especially love evenings because the warm ambiance always motivates a long walk home.
It's the same story with our food.  We carry preconceived notions of what is 'good' for us, where we get our nutrients and what health tastes like.  Until now I never really investigated these concepts or asked any challenging questions.  My recent shift in food consciousness has forced me to reach out for advice from doctors, restauranteurs and health or recipe bloggers who are actively bringing light to new information.  Much like Toronto I have warmed up to the idea of green foods and discovered all the wonderful things hidden behind stigmas (like great taste, a healthy body and extra energy).
With an open mind I hope that you'll consider trying a green smoothie.  This Monday August 15th was International Green Smoothie Day (yes that's a thing) so I went to my neighbourhood vegan eatery and ordered a kale,
apple, ginger one ($5).  This may sound gross to some of you but it really is quite the opposite.  Green drinks can be delicious and are very important for your body to absorb nutrients and flush out toxins.  They have this way of instantly making you feel better and providing a jolt of energy.  I look forward to settling in so I can start making my own from home and sharing recipes with you.  In the mean time check out the Alkaline Sisters post this week, 10 Reasons to Drink Green Smoothies for fabulous tips to making these drinks part of your routine.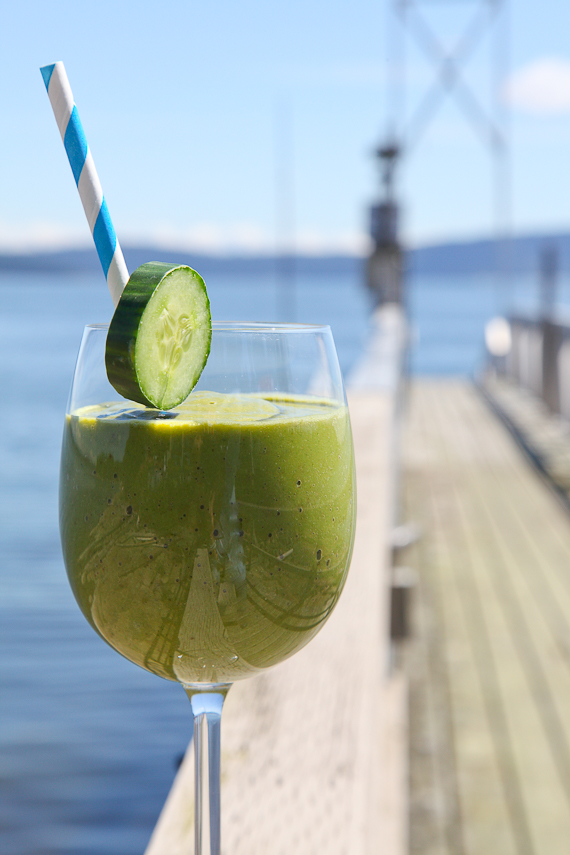 I was reading not too long ago that it takes approximately 6-8 weeks to alter your taste buds, which may explain why avocado went from my least favourite to most favourite food.  In the same way it took time for me to like Toronto and it will take time for you to like the taste of healthy food.  If you're in a place where change is necessary don't let apprehensions stand in the way… I promise the goodies on this side of the market are delicious too.
Try something green this week and get back to me ~ maybe kale, a smoothie or a yummy salad.
Cheers,
~B